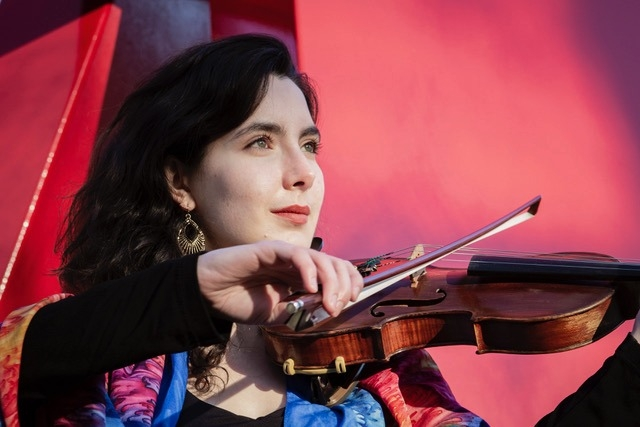 About Joanna
Joanna Clare is a well-respected Irish fiddler and violinist who began with the Suzuki method of learning the violin before studying with Sligo fiddle master, Brian Conway. She has won five Mid-Atlantic Fleadh Cheoil titles in fiddle tunes, slow airs, and newly composed tunes, and in 2021 she was awarded runner-up for the senior fiddle slow airs competition at the FleadhFest in Sligo. Joanna has performed at numerous festivals, including the Syracuse Irish Festival, the Rochester Irish Festival, the Maryland Irish Festival, the New York Trad Fest, the Maryland Folk Festival, and the Philadelphia Folk Festival as well as The James Joyce, Slainte, The Creative Alliance, and The Wine Collective in Baltimore. 
She is certified to teach violin with the Suzuki Association of the Americas and teaches Suzuki violin and Irish fiddle lessons both in person and virtually. She also assists in teaching The Great Groove Band, a children's pick-up band at the Philadelphia Folk Festival. As a teacher, Joanna prioritizes physical technique to direct her students' playing and emphasizes "what to do," but more importantly, "how to do it." Check out her website, www.joannaclare.com for more information.
Instruments
Primary: Violin
Specialties: Classic, Irish/Fiddle
Age Limits
Minimum 3 years old
Student must be able to communicate and use arms
Teaching Days
Tuesday & Friday (subject to availability)
Interested in lessons with Joanna?
Email us at [email protected] or fill out the form below!
[powr-form-builder id="c52227da_1697137380"]