Baltimore Music Company features an in-house, multi-certified, full-service repair and restoration department. Our expert staff of luthiers and technicians specialize in stringed instrument repair, restoration and customization.  
The Custom Shop at BMC is driven by the pursuit of providing the highest levels of customer service, repairs, customization and custom builds for stringed instruments. Our luthiers are multi-certified for some of the biggest brands in the industry including Fender, Gretsch, Squier, Jackson, EVH, Charvel, Taylor and others. We stock a variety of manufacturer replacement parts, brand name and boutique pickups, custom in-house and many vintage parts.  
We offer a wide array of services ranging from simple re-strings, set-ups, pickup repairs, electronic upgrades, structural repairs, finish work and full restorations. Our facility features an industrial grade Uni-Cure spray booth and our fretwork is performed utilizing our PLEK machine, which offers unparalleled accuracy with a tolerance of .001mm.  
Your relationship with your instrument is personal and cannot be summed up by "factory spec".  Our goal is absolute customer satisfaction which is why we stand by all of our repairs and offer a 90 day satisfaction guarantee on our set-up and fretwork. 
We want to get it just right and look forward to working with you!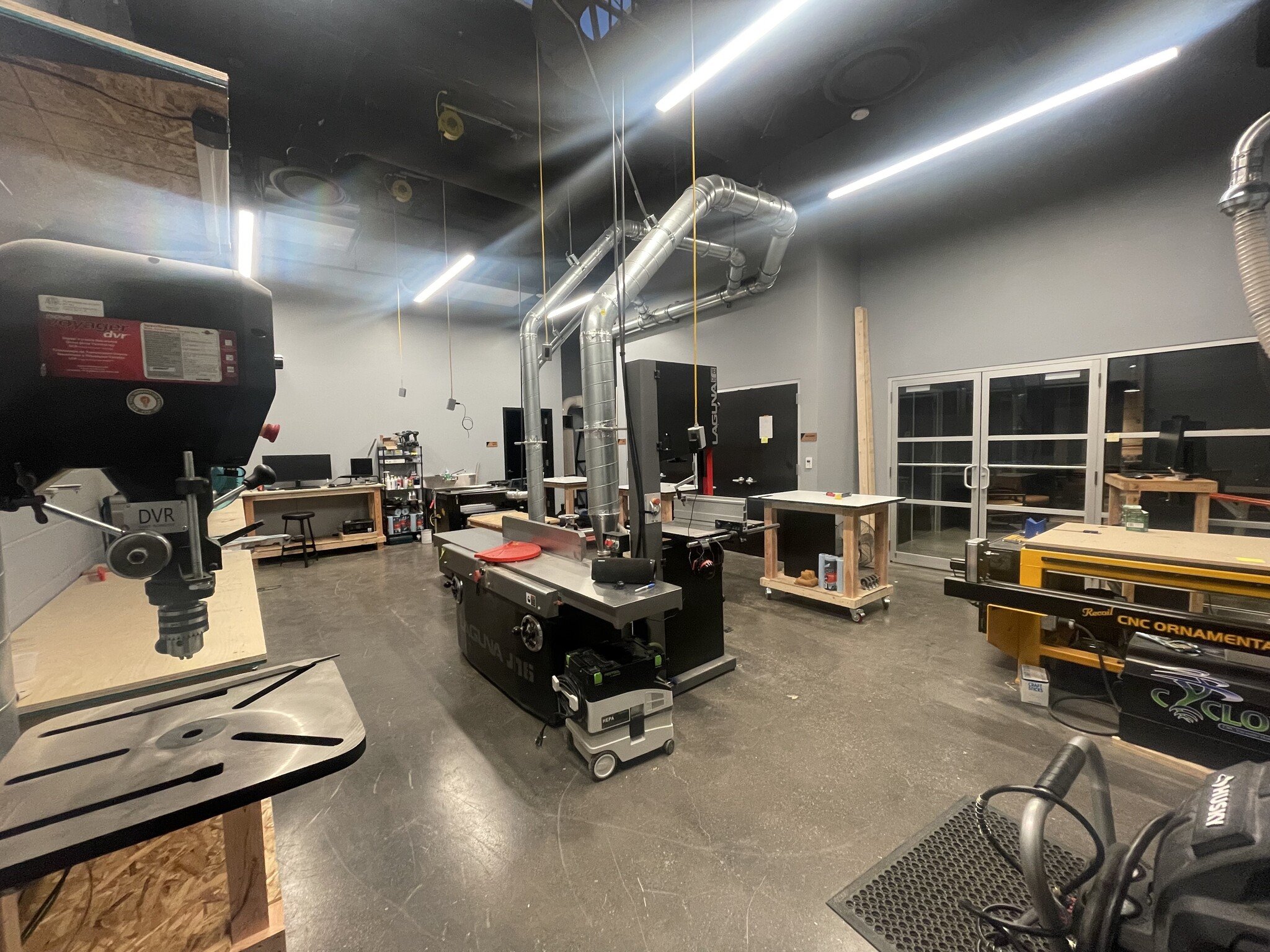 -----------------


Hourly Rate & Bench Fee

We have a minimum $55 Bench/Diagnostic Fee that will be included in the final repair invoice if you go ahead with the work.  If you choose not to go ahead with the work, the $55 bench fee will apply as a flat rate for the labor of assessing your instrument.  
Our hourly rate is based on $110/hour.  We use this rate to price jobs based on how many hours are estimated to complete each job.  Certain services, as listed below (string change, set-up, Plek Dress & Set-up, etc) have flat starting rates while other jobs need to be priced and assessed as there is not a one-size-fits-all pricing given the varied condition of each instrument.  

String Change

-Standard String Change - $35 (most acoustic and electric instrument)

-Speciality String Change - $55 (Floyd Rose/locking tremolo systems, mandolin, 12 string, nylon string, 
etc)
A String Change includes - removing the old strings, securing the hardware, polishing the frets, oiling the fretboard (for unfinished boards), installing/stretching/tuning the new strings.  
*Strings are not included in this price*

Plek Dress & Set-ups


Standard Set-up - $110
Plek scan for assessment, remove old strings, adjust truss rod, adjust action and radius at bridge, secure hardware, clean and polish frets, clean and treat fretboard, clean and polish contact points, balance pickups if applicable, clean electronics (if needed), install and stretch new strings, balance tremolo if applicable, play test.
*Strings are not included in this cost.

Plek Dress and Set-up - $225
Plek scan for assessment, customized Plek fret dress with frets polished to 12,000-grit, Plek nut slot cut and radius, remove old strings, adjust truss rod, adjust action and radius at bridge, secure hardware, clean and polish frets, clean and treat fretboard, clean and polish contact points, balance pickups if applicable, clean electronics (if needed), install and stretch new strings, balance tremolo if applicable, play test.  

*Plek fret work requires x2 packs of strings - one for testing and measurements and one set for final set-up.  Strings are not included in the price - you are welcome to bring in your own strings for use or purchase strings that we have in stock.  We carry most major brands of strings including StringJoy, D'Addario, Ernie Ball, Labella, Thomastic, PRS and more.  

*Stainless Steel, EVO and Cryo Frets as well as loose frets that have to be reseated have a $75 upcharge.  


BMC also offers a variety of other repair services including:

-Structural Repairs (including headstock and crack repairs)
-Electronic Repairs/Upgrades
-Acoustic Pickup Installation
-Electric Pickup Installation
-Bridge Re-sets
-Re-Fret
-Project Builds
-Nut Fabrication and Installation
-Saddle Fabrication and Installation
-Hardware Upgrades and Installation
and more....
-----------------
FAQs

1.  How do I get my instrument in the queue?

You can email [email protected] or text/call us at 410-853-7120 to set up a time to drop your instrument off but walk-ins are also welcome! 

2.  What is the typical process for dropping off a repair?

You're welcome to bring your instrument(s) in any time during store hours for repair work and it will be put in the queue or you can reach out to us via email ([email protected]) or text/call us (410-853-7120) to set-up a scheduled drop-off with a reserved spot in the queue.  
Once we get to your instrument in the queue, we will assess the instrument then email an itemized estimate with an ETA for your approval.  At that time, we will address any questions or issues that you may have and then once you're comfortable with the scope of work, we will begin and keep you posted along the way.

3.  How long will it take to repair my instrument?

The length of time it will take to complete your repair(s) will be dependent on the scope of work as well as the time it may take to source and receive specially ordered parts.  We stock most common parts but occasionally parts will have to be special ordered and/or fabricated.  Most Plek Dress & Set-up work is usually done within 1-2 weeks from the time we get it in-house and/or when you approve the estimate.  Restorations can take several weeks or months depending on several factors.  If you have questions or concerns, you're welcome to reach out at any time for an update and we strive to get back to every message within 24 business hours.  

4.  What if my instrument needs an adjustment after I pick it up?

We try to make sure that we understand your needs as a player before your instrument ever hits the bench as that informs the work we do since no one size fits all when it comes to customized instrument work.  However, it's not uncommon for an instrument to have to be tweaked a bit after it's been worked on and we're happy to do that for you if needed.  When you pick up your instrument, you are welcome to spend some time in one of the testing rooms or on the floor to try your instrument out and any tech on-site can make an adjustment for you at that time if necessary.  If you take it home and find that it needs an adjustment, reach out any time and we can set up a time to do that for you.

5.  Will my instrument be safe in your shop?

Absolutely!  Our entire shop is fully insured and also protected by a state of the art security system, security gate and locked doors.  Your instrument is also stored behind multiple key coded doors as soon as it is dropped off and until it is picked up.  We will not release your instrument to anyone except for the person named on the ticket unless you expressly let us know of another person who may pick the instrument up for you, which we will make a note of on the workorder.

6.  What payments do you accept for repair work?

We accept cash and all major credit cards.  We also offer Synchrony Financing for not only in-store purchases but for repair work as well.  If desired or when necessary, we can send a secure pay link via text message for you to pay ahead of time or when convenient.  

7.  Do you offer expedited services?

If possible and based on time and technician availability, we can offer an expedited service for an additional 20% of the final repair invoice based on our hourly rates.

8.  Do I have to pay for my repair before or after I pick it up?

For most repair work, payment will be due upon completion and/or at the time of pickup.  If we have to special-order parts, we may ask that you pre-pay before ordering and you can do that in-store or we can send a secure pay link via text.  For restorations or work with a larger scope we may ask that you pay in installments but we will go over that with you before work commences.  

9.  What's the difference between a Plek Dress & Set-up versus a Standard Set-up?

     A Plek Dress & Set-up is the ultimate first step for your instrument, whether it's an old workhorse or a brand new acquisition.  Each Plek Dress is completely designed and customized for you and that particular instrument.  Unfortunately, most instruments don't come from the factory ready to play (yes, even the really expensive and vintage ones!) and they need some work to get them to play properly and to be customized to your needs.  We scan each instrument that is dropped off (unless we are directed not to) to assess if the instrument needs any fretwork.  During the customized Plek Dress, the Plek will level, crown and polish your frets to ten ten-thousandths of an inch accuracy, eliminating any inconsistencies or fretting issues.  It will also cut and radius the nut to exacting standards helping your instrument to not only play more comfortably, but intonate properly.  After the Plek work is completed, a technician performs a full Standard Set-Up on your instrument including; securing hardware, polishing frets, treating the fretboard, systems check of electronics, balancing the tremolo system and pickups when applicable, installing your choice of new strings, stretching the strings, adjusting action and radius at bridge, intonating and a final play test.  

     A Standard Set-up without a Plek Dress does not include any Plek or Fretwork and will not address any fret issues that are resolved during a Plek Dress.  During a Standard Set-up, we re-string and make all necessary adjustments according to your needs to get your instrument to play as comfortably as possible.  However, without proper fretwork, we cannot guarantee the performance of the instrument.  Each Standard Set-up does include a diagnostic Plek scan so that we can go over potential fret/fretboard issues that are revealed, if any.